Our Booking.com Guests Reviews
Like us on Facebook! Up to date Information & New Promotion!
We are on Airbnb.com! Easy & Friendly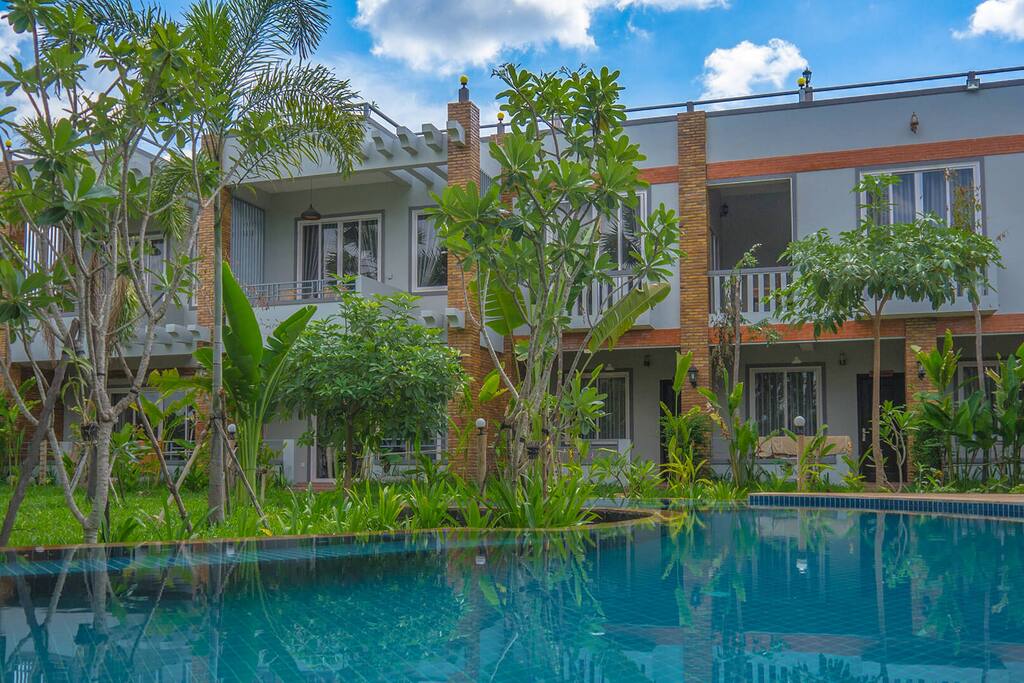 Hak's House - Family Run Guesthouse + Pool
Siem Reap, Siem Reap, Cambodia
A Friendly local run and managed hostel by Hak and his family.Breakfast included, Free airport & bus station pick up and Free internet WI-Fi, Free drinking water refill, 1USD bicycle rental and 12 ...
Useful Information To Know Before Your Temples Visit! Right Click & Save!
December 2023
M
T
W
T
F
S
S
1
2
3
4
5
6
7
8
9
10
11
12
13
14
15
16
17
18
19
20
21
22
23
24
25
26
27
28
29
30
31
10% Discount For Food & Baverage & Tours for direct booking – For more information please contact us directly for booking and inquiry!
>Special Benefit You Will Get:
*Free Breakfast 7AM-10M
*Take Away Breakfast Sunrise
*Free Round-trip Transfer
*Free Shuttle Downtown
*Free Bicyce Use All day
*Free use of Swimming Pool *24 hour Free Wi-Fi
*Free Welcome Cold Drink
*Daily Room housekeeping
*Free DVD Player Movie
*Map of Temple & Town
*Bed linen and towels
*Free Book swap
*60 International Satellite TV Channels
* Travel and Tour Information
* Free Tea & Coffee all day in room

Transports Available
Bicycle Rental Free
Motor Boke Rental
Tuk Tuk & Driver
Air Con Car & Driver
VIP Air Con Mini & Driver
Luxury Big Bus & Driver
All Boat Tickets Booking
All Bus Tickets Booking
Flight Tickets Booking
Contact Us!
Hak's House, Ring Road, Wat Chowk, Siem Reap, Cambodia.
Tel: 012 540 336
Tel: 063 964 690
5 minutes from Capitol Tours Bus Station.
Email:
Click Here
IMPORTANCE FOR YOUR ARRIVAL

WHY GETTING OUR FREE PICKUP::?? Read this ! bus station and Boat Dock TUK TUK Scam! ***when tourists get off the bus, they said free service anywhere but tourist told them to take to guesthouse they booked but no commision then they started to refuse or make problem. then when arriving at the guesthouse, they are so pussy to take guest to temples and when guests refuse, they then ask the guests to pay at least 4 times more than what the guests should pay and if the guests refuse, they will shout very loud in the street to guests like (fuck you, and all the bad words) SO BE SURE YOU EMAIL OR CALL US 24 HOURS BEFORE YOU ARRIVE IN SIEMREAP. GOOD LUCK! GOD BLESS!

Siem Reap & Temple Tours !!?
Please kindly visit our www.hakstours.com website, we offer so many different kinds of tours in SiemReap and Temples Tours. We can help you with anythings such as, customize your tour, temples suggestions, tour plans, give you the best price and more. We offer all kinds of transportation such as, motor bikes, tuk tuk, air con car, aircon mini van all with your own private drivers. just drop us an email, we will get back to you within 24 hours. Thank you for taking time to visit our website!!
We can guarantee you 24 hours power when you stay in our house even if the government power cut off because we have our own stand by generator.